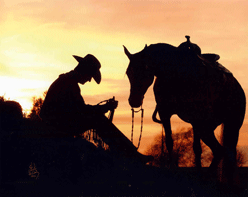 Just as important is the fun. Jody has a great talent for communicating his knowledge and ability to amateur riders. "I like to win and I really like for my amateur riders to win," he says. "But this is supposed to be for fun, and there has to be a balance between fun and work. We take our lessons, the condition of our horses, and riding the best we can very seriously, but I encourage people to enjoy the entire experience of the show environment."
Jody Strand's peers are aware of his talents. In 2005, after being nominated eight times, the Arabian Professional and Amateur Horseman's Association (APAHA) selected him Male Western Pleasure Trainer of the Year. In the Arabian Horse World's "Totally Tops" awards, which is based on points accumulated by winning national titles, he has been on every list but one since the program's inception in 1996. "I'm proud of that accomplishment. It shows consistency in the ability to turn out great horses year after year."
< Photo by Stuart Vesty

In 1997, Jody acquired his Judge's Card, and currently holds his Level I Card, the highest level a judge can receive, which qualifies him to judge Regional and National competitions. Jody has judged numerous esteemed shows throughout the United States and Canada, including the prestigious Scottsdale Arabian Horse Show in 2007. He has also given many clinics throughout the United States, offering his techniques to those wanting to make the most of their western pleasure horses.
Jody Strand loves horses and has a natural ability with them, but there are no words to describe the magnitude of dedication and commitment he has to the breed, industry, and his amateur riders. "I was born into a tradition that is my passion. Training horses is what drew me to this business, and my favorite part of the day is getting to ride. I take pride in my farm for what it has become, and the potential it still holds for the future. I look forward to the days of passing on this tradition to my children. We've been lucky to enjoy over 50 years in the horse business, and I'd love to see 50 more."