Fifty years of success in the Arabian horse industry proves two things: Outstanding horses and superior horsemanship, the kind that spans generations. At Strand's Arabian Stables, in Toddville, Iowa, Jody Strand is a good example. He was only 5 when his father, Ed Strand, and his Uncle Milt began the business, and as they turned the fledgling operation into one of the industry's most respected breeding and training centers, he absorbed the lessons they taught him. Now, as Strand's celebrates its 50th anniversary, the farm's gilt-edged reputation is based as much on Jody's contributions as its history. The result is that Strand's Arabian Stables is not just successful; it is a household name in its industry.
Over the years, Strand's Arabian Stables was home to several high-quality sires, both homebred and those owned by clients. Now, however, the 55-acre facility is focused on developing and showing horses from the local to the national level, and its record includes numerous national titles. Training in nearly all traditional disciplines (western, hunter, country pleasure, English and driving) is offered, but over the years, Jody Strand has become so famous for his expertise in the western division that new acquaintances are sometimes surprised to find that the farm offers so many other venues.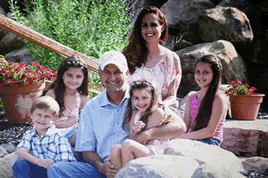 Three generations of Strands have been so fortunate to live a life and have an occupation which captures their heart and drives them passionately every day. This feeling has now spanned over five decades. They continue to be grateful to work in this industry and be touched by the Arabian horse.
Open to the Public:

The public is welcome to visit the stables Saturday's from 9 am to 4 pm, or during the weekday by appointment. For Directions, please click here. To download complete Brochure, click here.
Picture on the left: The Strand Family - photo by Stuart Vesty